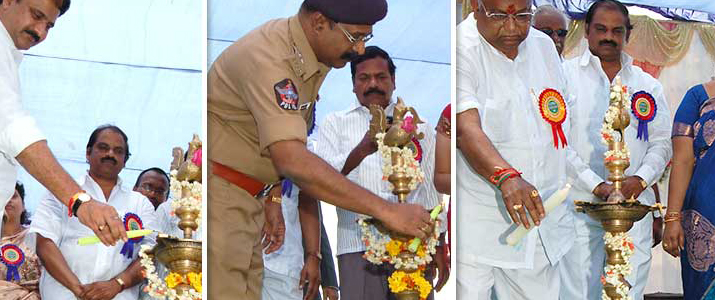 Dream Big We Make you Achieve it
Priyadarshini Group of Institutions offer you a learning experience rooted in a rich educational heritage and boosted by cutting edge research and innovation. Reputed to be one of the finest institutions, Priyadarshini offers a holistic system of education that is respected by many companies in search of the finest talent across streams.
ACADEMICS
Priyadharshini is one of the academically sound college of Andhra Pradesh. It's known to create toppers under the guidance of its highly focused & motivated team of faculty members. Due to the technical skills of our students top MNCs frequently visit our campus and we have a record of achieving excellent placement in the past years.
DEPARTMENTS
Priyadarshini has its own self-driven departments. Each department has an independent infrastructure. The heads of these departments assume complete charge of the departments – teaching, management, development, research, industry interaction, etc and these are supported by a team of Professors, Asst. Professors, Lecturers and technical/administrative staff. With complete clarity on the core concentration of the stream of study, they are able to devise and pool their own innovative ideas to nourish and nurture academic excellence.
The department of engineering has been playing a vital role in producing scientists and technologists of highest caliber. The Institute is organized into 5 engineering departments, along with individual departments for Physics, Chemistry, Mathematics and Humanities, MCA and MBA All departments, center and inter-disciplinary programmers have their own laboratory facilities.
Btech, MBA, MCA & Pharmacy:
University offers following programmes:
Computer Science and Engineering(CSE)

Electronics and Communication Engineering(ECE)

Information Technology(IT)

Electronic and Electrical Engineering (EEE)

Civil

Mechanical and Automation Engineering (MAE)

Master of Business (MBA)

Master of Computer Applications (MCA)

B. Pharmacy & M. Pharmacy
The B.Tech & Pharmacy programme is of 4 years duration.

The MBA, MCA & programme is of 3 years duration.

The MCA course helps an individual to grab the request amount of knowledge both technical and academic that after3 yrs an outgoing MCA post-graduate student is ready to face any challenge in the industry.

Regular: classes shall be held on weekdays (Monday to Friday) from 9:00 am to 5:00 pm

The student strength in every programme is 60 in each academic year.
MTech:
The University is planning to offer Regular Master progammmes in the following disciplines:
Information Security Management

Mobile & Pervasive Computing

Robotics and Automation

VLSI Design
The duration of the course is 2 years for regular programmes.

Regular classes shall be held on Monday to friday from 9:00 am to 5:00 pm

Student strength in every programme is 30 in each academic year.